"The disappointment of poor quality lingers long after the sweetness of cheap prices is forgotten."
Contact us by email: Info@costcast.com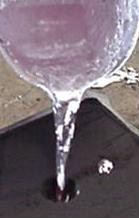 We manufacture Aluminum sand castings for the aerospace, railroad, OEM, marine, laser-optic guidance system, construction, traffic control, and many other industries. Many of our customers also have us drill, weld, assemble, machine, paint, anodize, powder coat, and/or polish the parts we cast for them.
Cost Cast supplies traffic signal hardware designed to meet the rigorous specifications required for the harsh climate in the State of Florida.
We appreciate the opportunity God has given us to operate His business in a way that honors Him.
Sand Casting Products
Cost Cast, Inc. supplies machined aluminum sand castings to numerous machined aluminum sand casting customers that desire high quality aluminum sand castings. Production runs of machined aluminum sand castings vary from two to a couple thousand. We produce high quality aluminum sand castings for industries including aerospace, railroad, trainer/simulation, and traffic intersection and hardware. All of these industries require high quality machined aluminum sand castings.
---